All classes currently online
No set online class fee yet -pay what you think it's worth (or what you can) at this link
Class on demand prerecordings:
Ballet pre-recording of one of the Friday morning ballet classes with Anna
QuaranH.I.T. - high intensity work out for dancers with Lucia
Live classes:
Ballet classes with South West Dance Theatre
- currently online with zoom, Fridays 11am-12noon (UK time)
All you need to join us online is a bit of kitchen or patio space, a phone or laptop, and love to dance!
Can't make 11am on Friday? See Ballet Ballet class on Demand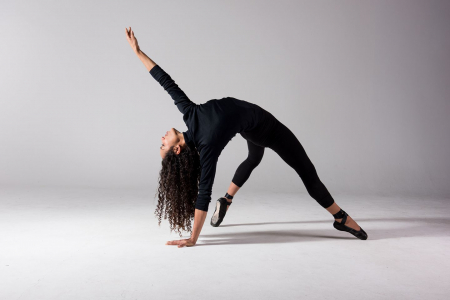 Credit: Derwood Photography
Classes are intermediate to advanced level for dancers from all disciplines, for anyone who wants to feel strength, grace and joy throughout the lock down.
We use a mixture of classical, jazz, indie, hip hop, pop and world music for all our classes giving participants a flavour of the training practices that go into our shows.
How to join the live class on Fridays
Just follow the link below and enter the Meeting ID
If you do not have the zoom app on your computer or phone you may need to allow a couple of minutes to install (it's free)
Join Zoom Class
https://us02web.zoom.us/j/902073746?pwd=ZGFVYjFsdnJ5S0t3bjFCbjRLRThzdz09
Meeting ID: 902 073 746
Password: 735299
The music
So you can hear it at full whammy through your own sound system or headphones!
Playlist on spotify at
No set online class fee yet - pay what you think it's worth at this link
- we'll pull through this!
Class on Demand for International Dance Day
While it's nice to join class live with peers the complications of life at home and day to day scheduling can make that difficult (impossible) for some of us. On international Dance Day Wednesday 29th April 2020 we're posting a recording of the Friday morning class for you to follow at a time that suits you -
Go to Class on Demand
email info@southwestdancetheatre.com for queries
(Lock down ballet class - preview)
Disclaimer:
The keen eye will notice this was not filmed in professional conditions and there are some tell-tale signs of lockdown working practices - I'm dancing in a kitchen, there are child interruptions, my ankles don't quite work after my first run in about a decade and I sound like I'm talking through a sock. I have however stitched the music on top so that sounds clear - after all, nothing matters but the music!
No set online class fee yet - pay what you think it's worth at this link
Classes taught by
Save
Save
Save
Save
Save