Classes
Friday morning ballet – online live and on demand

This replaces the intermediate/advanced classes we've holding at the studio. Exercises are based in classical Cecchetti technique (waxing a shade contemporary at times) and set to a playlist of guilty pleasures from pop, classical, world, rock and soul.

Join us on zoom every Friday at 11am to feel strength, grace and joy – link:

QuaranH.I.T. - more fitness training on demand

A quaranH.I.T workout working with dancers for stability, balance and strength, each 10 second break please pause the video and then come back,
And apologies for certain lags in sound,
But get the burn and enjoy!!
Snippets
If you just want a quick taste of dance theatre before you get back to the grind or other endeavours, you might like to check some of these out (more trailers and festival appearances on our channel)
2020 is our tenth anniversary – this is some snippets from what we got up to when we first formed 10 years ago: https://youtu.be/UBRdH9181Rk - oh those days...
In Full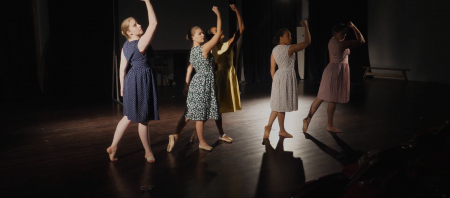 Letters from the Home Front – tech run
Our WW2 commemorative piece seemed to send our audiences on a rollercoaster of tears and tenderness. We weren't able to film the any of the performances themselves but thanks to Roger Barnes we have some great footage from the tech run:
https://youtu.be/sjBLjn2rxzw - Act I; https://youtu.be/TuLh3pzUQRg - Act II
photos: courtesy Derwood Photography
Being Romeo and Juliet
In partnership with Breathing Fire we focused on bringing our audiences the tumult of emotions the lead characters experienced. Again no coverage of the live performance and unfortunately we didn't have Roger help so the video quality's not the best but if you missed it and your curious here's a never-before released, warts n all version for sneak peek:
https://youtu.be/Z9yvLU47Ro0 - Act I; https://youtu.be/Z1U1yWxS_-M - Act II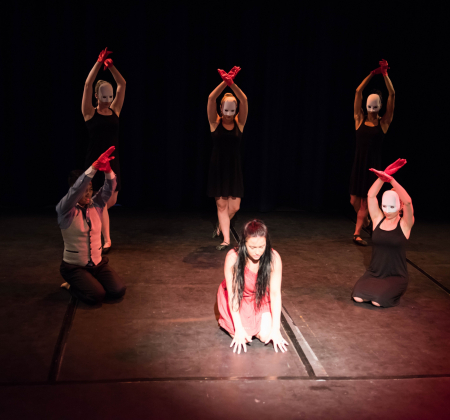 photo: courtesy Derwood Photography
Lady MacBeth – performance
We collaborated with the Trinity's Edson Burton for script and Visual Thinking's Sandra Barefoot for the BSL input to produce, as well as additional direction from Ben Nash as dramaturg and Mark Smith from Deaf Men Dancing for tips on choreographing with sign language. Shakespeare's plays are notoriously enduring but this performance came shortly after the Brexit referendum and proved particularly true to contemporary life. Thanks Matt Seow for the footage.
https://youtu.be/2svjiLxseLM - Act I; https://youtu.be/-liDMpgC_n8 – Act/II